Liner Products CIPP Tubes Meet Wide-ranging Performance Demands For Liner Size, Installation Technique, and Pipe and Site Conditions.
Our current technical resource library is below. Please check back often as we work to update this page with technical resources to help design your next pipe rehabilitation project.
QUESTIONS?
Contact our product support line or contact us here.
TECHNICAL INFORMATION

AND LITERATURE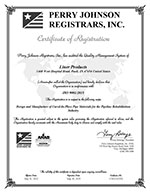 Liner Products ISO Certificate
Liner Products' manufacturing facility is certified ISO 9001:2015.