DRY
Tube Sizes

Tube Materials

Coatings

Construction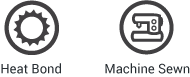 LP Dry is our traditional nonwoven felt tube product that has been the hallmark of Liner Products business since 1999.
LP Dry tubes are available in sizes ranging from 3-120 inches in diameter. Tube thicknesses are available in increments of .5 mm to give you precise control over liner thickness.
Each tube is specifically made to diameter, thickness, and length per the customer's specifications. These customer specifications usually originate from measurements of the host pipe and structural design and analysis to calculate the required CIPP wall thickness design. Manufactured tubes are slightly undersized to allow the liner to expand to the pipe wall and minimize any wrinkling of the liner, particularly at bends and points where the diameter of the pipe may be substantially reduced (such as offset joints and areas of significant deflection).
Manufacturing Process:
Operations management completes a thorough physical design of the tube based on the required dimensions, method of installation (Inversion or Pull-In), and other customer input. Based on this information, a Tube Construction Worksheet is provided to the plant floor superintendent to initiate construction.
Polyester felt CIPP lining tubes are generally manufactured from one or more needled polyester felt layers constructed together to form a tube. Fiber reinforcement is available upon request for special pipe applications and considerations.
Seams in the dry tube are formed by either overlapping heat bonding or stitching the adjoining edges.
The outermost felt layer of each LP Dry tube is coated with an impermeable thermoplastic film to allow for vacuum-assisted resin saturation of the tube, resin containment, and containment of the fluid(s) used to invert the tube and cure the resin.
Seams in the coated layer are sealed with a thermoplastic sealing strip or extrudate which is bonded to the exterior of the coated layer. All seams are inspected to ensure an adequate bond between the coated layer and the sealing strip.
A section of each roll of polyester felt as well as a cross-section of each manufactured tube is tested and retained as part of Liner Products' ISO-9001 Certified Quality Program.